The Double Trouble Dual Light Clip on Ring Light
This ultra powerful, dual LED light desktop ring light infuses power with flexibility. Create unlimited combinations of lighting and angles with two carbon steel gooseneck wires, packed with 48 strong LED lights.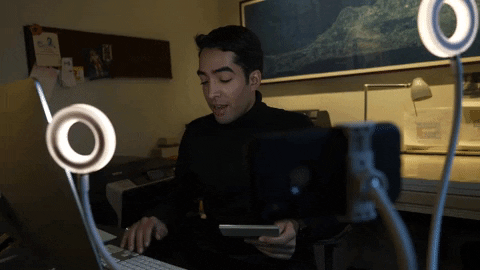 ✅ Equipped with 3 different color modes and 10 brightness levels for each mode, this ring light is guaranteed to meet all of your lighting needs.
✅ 
Ideal for TikTok videos, YouTube Videos, Instagram videos, Zoom or Slack work from home video calls, live-streams, make up videos, selfie videos, videos and pictures with friends and more.
✅ Doubles as a powerful, energy saving desktop lamp.
✅ Free 2-3 day shipping to anywhere in the US. Ships from our NY warehouse.

✅ 100% satisfaction money back guarantee. 
Two is always better than one
Double lights means 2x the radiance, glow and brilliance
Double the power means maximum light
Make your videos extra bright and hyper realistic with these dual LED light heads. Rotate, extend and twist them to create powerful, double light exposure angles and infuse your content with light, charm and elegance. This is lighting sophistication, with a double twist.
Sturdy, durable and powerful
This highly durable LED clip on desk ring light is made of carbon steel, built with high-strength springs and has maximum gooseneck flexibility powers. This is a ring light built for the long haul as you can expect a lifetime of good use. Whether you're making fun TikTok or Instagram videos, conducting important Zoom based work meetings or just need a flood of light poured into the room you're in, this ring light has you covered.
3 Light Modes and 10 Levels of Brightness
Mix and match varying color modes and brightness levels until you have the perfect light composition for your videos, pictures or streams. Warm white, natural light and cold light provides the much needed light flexibility to ensure you have suitable lighting for any kind of video you're taking. Additionally, this dual light desktop clip on ring light serves as an amazing desk or table light source as well. You don't need a big, clunky table lamp anymore once you have this.