The Director Ring Light Package
Utilize professional lighting wherever you are with this ultimate ring light package. Comes with 2 pro-grade ring lights and a power bank, giving you a portable lighting studio anywhere you are. Make your videos stand out with powerful lighting.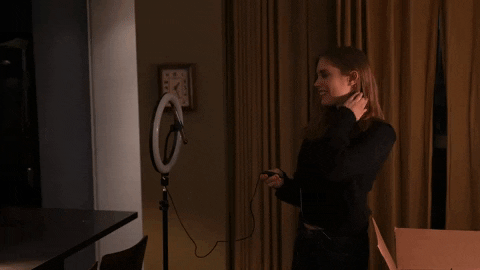 ✅ Your package contains a 12 inch right light with an easy to use tripod that can extend up to 7 feet tall, a selfie clip on ring light & a dual USB power bank for powering your ring light & charging your phone on the go. 
✅ Free 2-3 day shipping to anywhere in the US. Ships from either our LA or NY warehouses!
✅ 100% satisfaction money back guarantee. 
shoot your videos like a director
Giving you the utmost confidence to create videos so realistic that your viewers will feel like they are in the same room
CREATE INCREDIBLY PROFESSIONAL VIDEOS
This 12 inch ring light is equipped with 3 different color modes (white light, natural light, warm light) and 10 levels of adjustable brightness for each color mode — all while being powered by a bluetooth remote, so you can rapidly take pictures or videos hands free. Experience incredible stability with a pro grade, durable tripod stand and adjust the height up to 7 feet tall, to capture any angle imaginable. Your lighting will be so good, people won't want to stop watching.
mighty pocket sized power
Every set comes with a Selfie Ring Light. Provisioned with 3 different light modes and powered by a long battery life (via a rechargeable USB cable, which is included), this pocket sized ring light can be equipped to your phone, giving you amazing lighting anywhere you are. Professional lighting meets ultra convenience. 
THE BEST content anywhere you are
Rotate the ring light head 360 degrees, extend the stand up to 7 feet high, and utilize multiple brackets & clamps to position your phone or camera inside the ring light or outside of it. Highly durable, extremely easy to set up + breakdown and take on the go, resulting in convenient portability. Use the included dual USB power bank to power your ring light stand and charge your phone wherever you are.  It's like having a movie set wherever you go.