The Halo Desktop Ring Light with Tripod Stand
Give your videos, streams and pictures an unbelievable light boost & crystal clear quality with this powerful 10 inch desktop ring light, equipped with a tripod stand.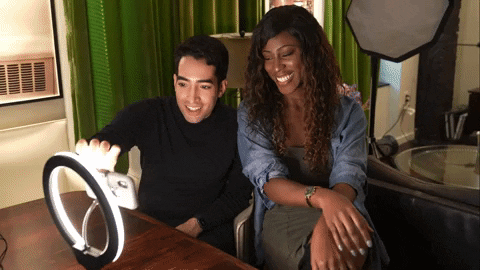 ✅ 
3 different color modes and 10 brightness levels for each mode, this ring light is guaranteed to meet all of your light needs.
✅ 
Ideal for TikTok videos, YouTube Videos, Instagram videos, Zoom or Slack work from home video calls, live-streams, make up videos, selfie videos, personal camera roll videos and content creation of any kind.
✅ Doubles as a desktop lamp.
✅
Comes with bluetooth remote for hands free picture & video taking.
✅ Free 2-3 day shipping to anywhere in the US. Ships from either our LA or NY warehouses!
✅ 100% satisfaction money back guarantee. 
Power comes in circles 
It's like having the sun on your desktop
Supreme Convenience meets High Level Performance
This desktop ring light is extremely easy to set up and use. Don't mistake ease with power - this ring light packs an extremely powerful punch and will brighten up your entire room. Engineered with 360 degree rotation capabilities and a strong phone holder, you can create any angle imaginable. 
Durable, versatile and much needed
This desktop ring light was created for people with any kind of video needs. Working from home and needing a light boost for your Zoom or Slack meetings? This ring light will more than meet your needs. Making fun TikTok videos from your bedroom, living room, garage, basement, deck or office? This ring light is perfect for you. Equipped with a bluetooth remote, you can snap pictures and take videos from up to 30 feet away, resulting in a hands-free experience.
Doubles as a desktop lamp
Don't have a nice lamp yet for your desktop or looking to add another one? This desktop ring light functions as a great desktop or tabletop lamp that doesn't take up much space and can be plugged in to your laptop or computer. Powered by a handy USB cable, you can put in your backpack, bag or purse and bring this with you on the go - illuminating entire rooms with the tap of a button.