The Rainbow Ring Light
Allow your creativity to soar with all of these colors! Give your videos, streams and pictures an unbelievable light boost & crystal clear quality with this powerful, multi colored 10 inch desktop ring light — equipped with a tripod stand and 2 remote controls.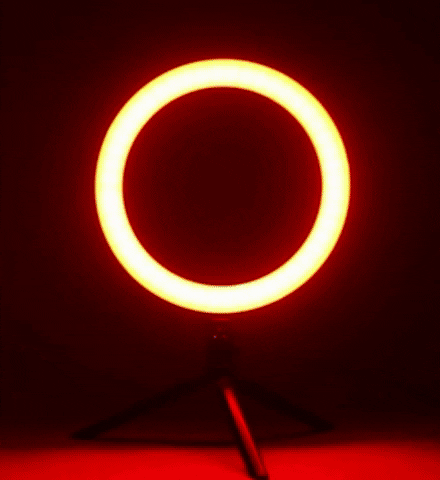 ✅ 26 different color modes and 10 brightness levels for each mode, this ring light is guaranteed to meet all of your lighting needs. 

✅ 
Ideal for TikTok videos, YouTube Videos, Instagram videos, Zoom or Slack work from home video calls, live-streams, make up videos, selfie videos, personal camera roll videos and content creation of any kind.
✅ Doubles as a desktop lamp.
✅ 
Comes with 2 bluetooth remotes - one for hands free picture & video taking and the other to change all the color settings. You can mix and match colors together, activate an auto color changing display and let your imagination run wild with every sort of color you can use for your pics and videos.
✅ Free 2-3 day shipping to anywhere in the US. Ships from either our LA or NY warehouses!
✅ 100% satisfaction money back guarantee. 
Allow your creativity to soar
Utilize the Dazzling Array of Colors on this Rainbow Light
INCREDIBLE COLORS MEETS UNMATCHED VERSATILITY
his multi colored desktop ring light is extremely easy to set up and use. Don't mistake ease with power - this ring light packs an extremely powerful punch and will brighten up your entire room with all sorts of fun colors. Engineered with 360 degree rotation capabilities and a strong phone holder, you can create any angle imaginable and match it with a dazzling array of colors. 
UNLEASH YOUR INNER CREATIVE BEAST
This powerful desktop ring light allows you to soar to the height of creativity. Equipped with 13 solid colors, 13 mixed color combinations, regular white light and multiple "color show" modes, you can create the coolest videos ever, wherever you are. Infuse a brilliant hue of red, green, blue and so much more in your videos and pictures with this color powered ring light. 
Customer Reviews
05/18/2021
Kristen D.

United States
GAME CHANGER!!!
This light has truly given me the opportunity to really step up my photo game! It arrived in like 2 days!!
02/26/2021
Susie T.

United States
Where has this been all my life??
I have been looking for a ring light that has tons of colors and I am so happy I found this! It has more colors than you know what to do with, which is great. I only use 3-4 colors in my videos but I like the luxury of having more. They really add an interesting aesthetic and vibe to some of my videos and its so convienent that I just need to use one ring light instead of multiple ones to get all these colors. Absolutely love it